A new concept has local fitness enthusiasts racing to Coleman Boulevard. Blue Sky Endurance and Premier Physical Therapy have teamed up to offer swimmers, bikers, runners and triathletes not only the latest and best quality in equipment and apparel but also the benefits of on-site physical therapy and education specific to their customers' needs.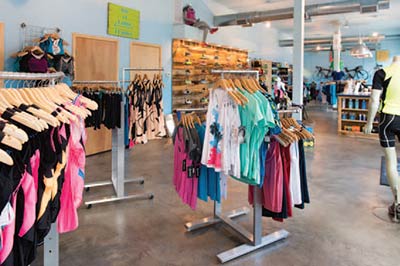 "This is more than just a retail shop. We have solutions for chronic injuries and talk about preventive measures with the athletes," said owner Catherine Hollister.
Open six days a week, Blue Sky Endurance takes care to help their customers choose products that are right for their needs. True to their motto, "Fit First," Blue Sky employees will take the cyclists' measurements and run them through an app that calculates the corresponding ideal specifications for either road or triathlon bikes.
Men's and women's apparel range from running clothes to swimsuits, cycling wear and triathlon kits.
"Many of these are lines you won't find elsewhere. Some are local or regional companies, but all are comfortable, high-quality performance gear. These are well-thought-out products," Hollister said.
GPS watches, bike computers, sunglasses and helmets also are available, and the store carries a varied nutrition section, providing fuel for customers before, during and after exercise.
"We have several all-natural options, even vegan or gluten free," Hollister explained. "We provide education about what to take, when and why. But stomachs are sensitive; we encourage everyone to experiment early and often with the nutritional products to find what performs best for you."
Continuing their mantra of "Fit First," Blue Sky Endurance makes sure your shoes fit before you walk – or run, bike or spin – a mile in them. Following a videoed walk or run on the in-store treadmill, the customer's gait is analyzed.
"It takes the guesswork out of choosing the right shoe and right support," Hollister pointed out.
But finding the right shoes is only the first step when it comes to alleviating, correcting or preventing injury. Headquartered in North Charleston, Premier Physical Therapy is available on-site at Blue Sky Endurance two days a week, with plans to soon be there five days. Physical Therapist Jill Boorman and her team are dedicated to educating people about nutrition, dehydration, injury and preventive measures. One of Premier's main goals is to help people learn how to exercise in a way that is beneficial for short-term goals and long-term health.
"We believe exercise is the best medicine and encourage our clients to continue working through injury," said Boorman.
The in-house current pool is available for physical therapy patients, wet suit product testing and swim stroke analysis. The handicap-accessible pool can be rented for endurance swimming.
Blue Sky Endurance and Premier Physical Therapy have joined forces to create a community of fitness enthusiasts in Mount Pleasant. In addition to the services and products they offer, they have raised the bar by inviting the best coaches and respected swimmers, cyclists and runners to hold information sessions. They coordinate Meetup and Facebook groups about fitness and also offer triathlon, marathon and half-marathon training programs.
When you're ready to hit the ground running, visit Blue Sky Endurance at 725 Coleman Blvd. or online at blueskyendurance.com and premierphysicaltherapy.us.
By Anne Toole