If you like a quality smoke after dinner, Cigars on 17 in Mount Pleasant is the choice for premium cigars. Whether it is a Romeo y Julieta, a Padron or one of many other selections, Cigars on 17 combines its own humidor, customer lounge and premium customer service to give you the best cigar experience possible.
"We carry over 600 unique cigars from the leading manufacturers, priced from $8 to $40," said owner Dan Greenwald, who, along with his wife Beth, just opened Cigars on 17 in August of 2022. "And we help you curate the right selection of cigars for your enjoyment."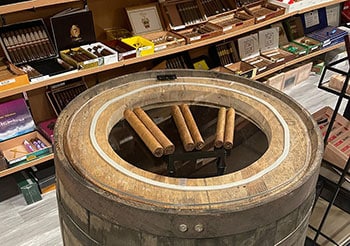 For example, do you enjoy a cigar after dinner and dessert? What type of meal are you eating prior to a cigar? Are you pairing it with bourbon, wine, beer or another spirit? The staff at Cigars on 17 will walk you through every step to inform, explain options and make you a client for life.
"Everyone who walks in is greeted and asked if we can help them find what they are looking for," Greenwald said. "We do not hover as you browse the humidor. We let you peruse selections and then help you as needed to pick the best cigar for your needs."
Browsing all the choices is an experience by itself. A quick scan of the room reveals brands like Arturo Fuente, Aladino, Ashton, Montecristo, Macanudo, Perdomo, My Father Cigars, Oliva, Plasencia, Foundation, Dunbarton Tobacco & Trust, Rocky Patel, Drew Estates, CAO and Cohiba.
"We periodically produce our own house cigar, aged in bourbon barrels," Dan Greenwald added, regarding his in-store collection.
If it ever gets too hard to decide, the sales team at Cigars on 17 will help narrow down the many choices to one or two.
"There are numerous questions we like to ask in helping curate the right assortment for you," Dan Greenwald said. "And sharing my knowledge is a highlight."
Greenwald's journey to Cigars on 17 was almost 35 years in the making. As a former regional sales manager for a large cigar manufacturer, his accumulated knowledge finally led him to opening his first shop, Cigars on Maybank, on Johns Island in 2021.
"We never intended to open a second store," he said. "But we realized folks from Mount Pleasant were not inclined to travel to Johns Island … and when we discovered the location on Houston Northcutt Boulevard, we knew a second store was meant to be."
When you choose Cigars on 17, the experience you savor with other cigar enthusiasts is personal and is about the joy of cigars. You won't find cigarettes, vapes or other tobacco products inside.
"Our focus is solely on premium cigars, and we have also invested in smoke mitigation in our lounges to ensure a great cigar smoking experience," Greenwald stated. "Our whole focus is in creating a lounge environment conducive to great conversation between cigar enthusiasts."
By L. C. Leach III